Speeding violations
Speed limit enforcement via photo/video capture
Auto PSIM lets you automate photo/video capture of speeding violations. For this purpose, certified photo/video enforcement systems by different manufacturers are deployed with Auto PSIM.
A server running Auto PSIM software receives an image of each vehicle exceeding the speed limit, as well as a detailed photo of the license plate, the license plate number in text form, as well as the date, time, and place where the violation was captured. Data pertaining to all captured violations at all photo/video enforcement locations will be automatically sent to a unified database used by the system that generates and prints traffic tickets.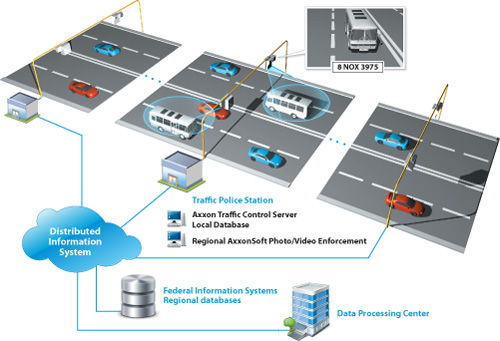 Advantages
You have a capability to receive not only the data associated with the captured violations, but also continuous video streams generated by photo/video enforcement system. This lets you utilize available photo/video enforcement systems to monitor traffic and to perform vehicle tracking functions.
You have a capability to aggregate separate photo/video enforcement systems and video surveillance cameras into a single unified system that is able to capture traffic violations and track down vehicles.