Smart traffic control
Auto PSIM lets you collect traffic data that can be used in automated traffic control systems (ATCS).
Traffic videos are collected by surveillance cameras and sent to Axxon Traffic Control servers. The software analyzes the video data and computes traffic flow parameters to calculate the following standard traffic characteristics:
average speed [km/hr];
traffic volume (number of vehicles per hour) [vehicle/hr];
traffic density [vehicle/km].
The following is also calculated:
lane occupancy [%];
vehicle length [m] – (for vehicle classification);
length of the queue at an intersection (detected by at least two video cameras);
instances of vehicles driving in wrong direction.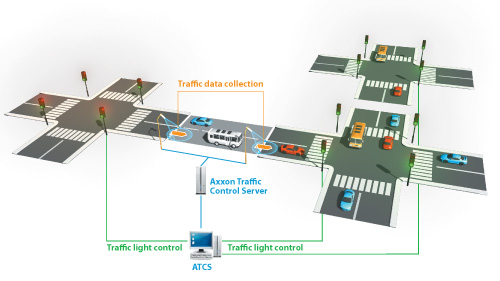 Data is then sent to the operations center (data processing center) where it can be mapped and saved to a database for future analysis. Data necessary for adaptive traffic control is sent to the traffic light control subsystem of the automated traffic control system.
The ATCS provides for automated control of traffic lights. Traffic is regulated by traffic lights managed by smart traffic controllers, which are in turn operated by the central server of the ATCS via data links. The automated traffic control system server feeds smart traffic controllers with traffic coordination plans according to various criteria: time of year, time of day, day of the week, and current traffic conditions index received from Auto PSIM system.
The operating modes of smart traffic controllers are also managed by the automated traffic control system server performing centralized management. The automated traffic control system server can also execute local flexible regulation algorithms for locally configured durations of traffic light phases for each individual intersection based on data received from Auto PSIM.