THINK AI. BUILD YOUR OWN VSAAS
Axxon VSaaS Datacenter is video management software that enables communications service providers and system integrators to build cloud-based video surveillance solutions (VSaaS) that harness the power of AxxonSoft's neural network analytics and intelligent search for recorded video.
Get personilized demo

VARIOUS DEPLOYMENT OPTIONS
To deploy the system, you can use your own computing infrastructure or rent it in a public cloud.
Learn more
FULLY CUSTOMIZABLE SOLUTIONS
Flexible configuration of available features and settings for each user or company.
Learn more
SOLUTION ARCHITECTURE
HOW YOU CAN USE AXXON VSAAS DATACENTER TO BUILD CLOUD SOLUTIONS FOR YOUR CLIENTS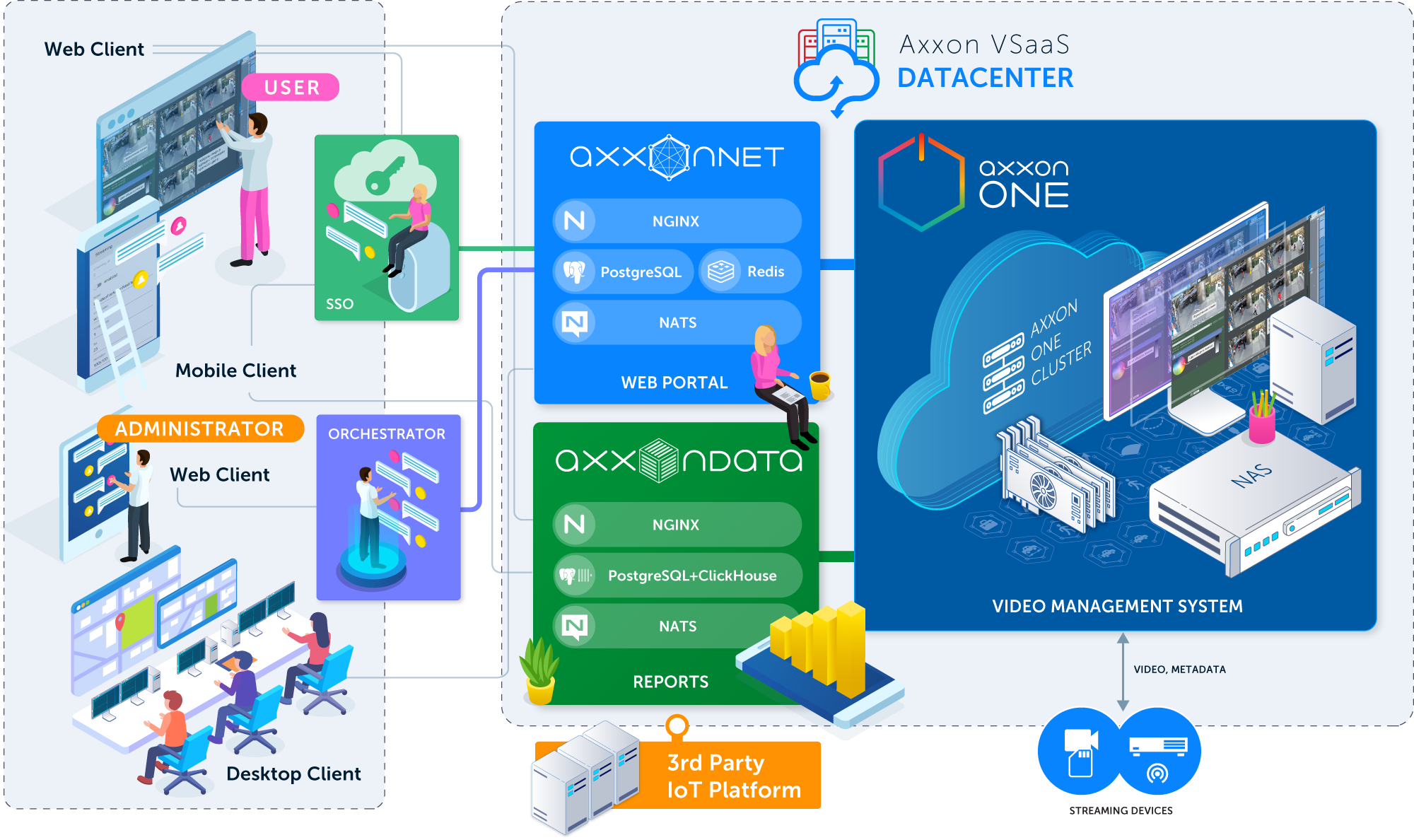 TRUE CLOUD ARCHITECTURE
Cloud-Based VMS Servers
Cloud-based VMS servers with remote configuration and monitoring:
Only cameras and network equipment are installed at the client's site. Video can be buffered to SD cards.

The client doesn't need to maintain and support hardware infrastructure. Easy system scaling.

HYBRID ARCHITECTURE
On-Premises VMS Servers
On-site VMS servers that can be configured and monitored locally or via the cloud:
Video is stored locally; recording is not affected by Internet connection failures.
Selected portions of video can be stored in the cloud to be quickly accessed from different devices.
The cloud helps easily access, configure and monitor any local system.

CAMERA CONNECTION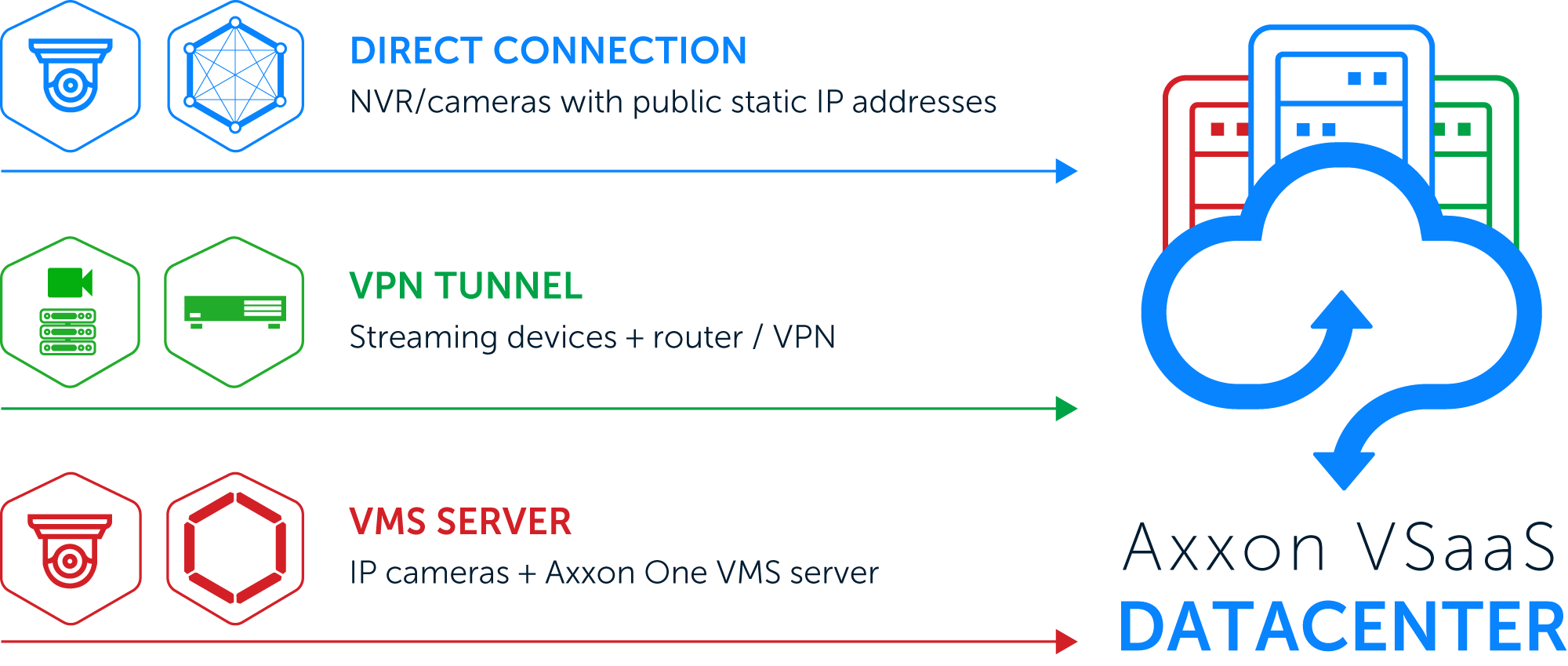 HOW IT WORKS?
FOR PROVIDERS
DEPLOYMENT, MAINTENANCE AND SCALING
Web Application
Microservice architecture, horizontal scalability.

Prometheus core metrics monitoring, logging with the ELK stack.

Sending of events to IoT platforms. Export of alarm event videos to streaming services, e.g., Amazon KVS.

Quickly customizable design of the user interface with the OEM GUI development kit.

Cloud VMS Servers
Dynamic resource allocation to each new client or task.
Scaling up to 10K servers.
Failover service.
User Report System
Limitlessly scalable user report system.
Development of new reports without coding.
FOR END USERS
FEATURES AND BENEFITS
AI Facial and License Plate Recognition
Identify and track persons or vehicles of interest across multiple cameras.
AI Fire and Smoke Recognition
Early detection of fire hotspots in areas where other types of sensors are ineffective.
AI Behavior Analytics
Early recognition of threats based on specific human postures such as raised arms.
Retail Analytics
Visitor counting, age and gender guesstimation, queue management and motion heatmapping.
Intelligent Search Across Recorded Videos
Quick search by multiple criteria: motion in area(s), crossing of a line, object color or size, etc.
AI Human/Vehicle Detection
Recognition, tracking and counting of humans and vehicles in complex scenes.
Multi-Level User Rights Management
Flexible role-based user rights configuration, convenient for large systems.
Comprehensive Reports
Custom reports from any client's facility based on detection tools, alarms and retail analytics.
CYBERSECURITY
Secure connection via HTTPS with TLS encryption.
User password hashing.
Password expiry and password history.
Password strength control.
reCAPTCHA v3 on the login screen.
Setting the lockout time/number of failed login attempts.

Auto logout after a set period of inactivity.
Inactive account locking after a set period, with reactivation by email.
Learn more about AxxonSoft's artificial intelligence

AXXON VSAAS DATACENTER APPLICATION EXAMPLES
You can combine these approaches to build your own cloud-based system optimized for your clients' tasks.
HOSTED VSAAS
Axxon VSaaS Datacenter is employed to build a hosted VSaaS solution that offers the user low upfront expenditures, easy system scaling and virtually zero maintenance costs.
CLOUD-MANAGED VMS
Axxon VSaaS Datacenter is used to monitor and manage cameras connected to servers located at clients' premises. Access to the cameras via the cloud is granted in accordance with user rights.
Looking for a VSaaS solution?
Contact us to get a detailed consultation.