Cashier operations supervision
POS PSIM's cashier operations supervision capability is based on synchronizing the cash register information with video sequences captured by a camera pointed at the cash register.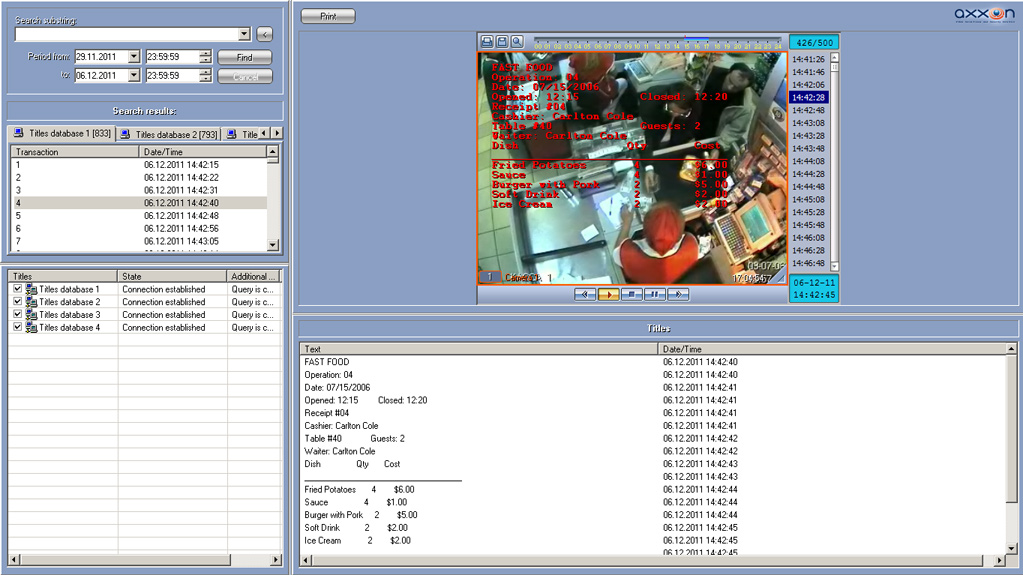 As a result, watching the real time video stream or archived video, the operator sees the picture of the customer's checkout accompanied by subtitles. The subtitles include the receipt text and cash register operations that are not indicated on the receipt, such as cash drawer opening or manual product code input. This gives the operator the full picture of what is happening at the cash operation unit and helps detect common fraud incidents, including:
credit and discount card fraud;
cash theft when giving change;
failure to ring up a sale, whole or partial;
receipt changes to the cashier's benefit;
expensive product rung up using barcode of a cheaper one;
unauthorized discounting;
cashier's collusion with a customer resulting in the accomplice's stealing items;
transaction cancellation after the customer's checkout with consequent cash embezzlement;
embezzlement of a return without registering the return transaction in the cash register;
use of forged credit card slips;
fake goods returns;
violations registered by the store's general video surveillance system.
Examples of detected fraud
A cashier acting in collusion with a customer has a barcode of a cheap product stuck to his/her hand. When pretending to ring up an expensive product, the cashier covers the product's barcode with the hand and registers a cheaper item. Or, taking advantage of the fact that barcode scanner sometimes fails to read a barcode the cashier manually inputs the number code of a cheaper product. It is impossible to detect this fraud using video footage only. However, it can be detected if the video surveillance operator has the information as to what product is actually being registered.
Another example of fraud is when a cashier acting in collusion with a customer rings up only one item from a package with several items. This can also happen by mistake. This situation can only be detected if the video footage is augmented by the information about what items are being rung up.
If the customer forgets to take the receipt the cashier can fake the purchase return or transaction cancellation and embezzle the money. Video surveillance of cashier operations can easily detect this fraud.
Features of POS module
Titles search. POS-PSIM can search video archive by subtitles. This allows using text search to find all necessary receipts and related video sequences for a set period of time. Any text on the receipt can be the search criteria, including the product name, the word 'discount', the cashier's number, the receipt total and so on.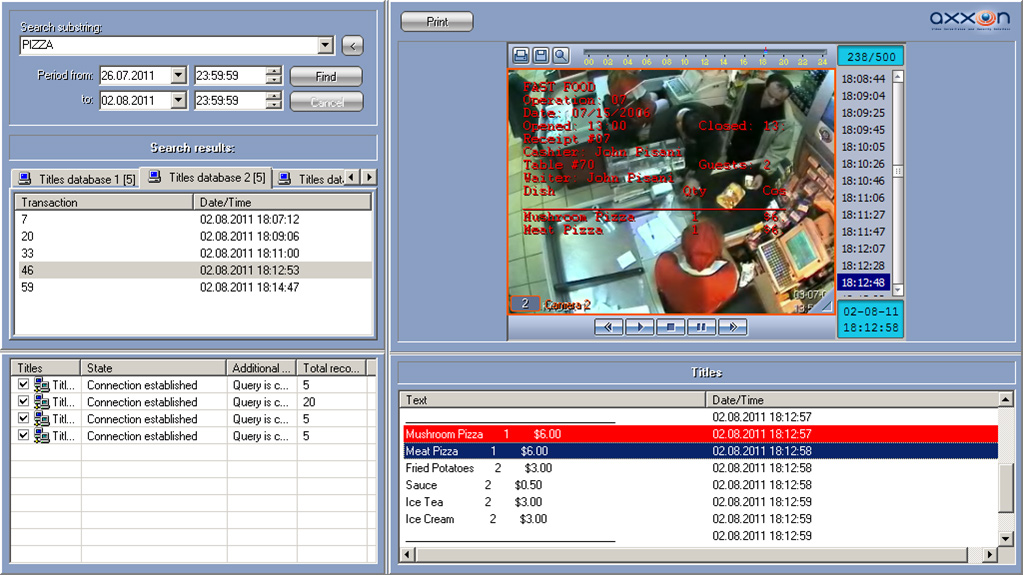 Slow and frame-by-frame playback. Analyzing video footage, the operator can manage the playback speed and watch separate video frames related to the ringing up of a particular product which helps ensure that important details are not missed.
Search presets and reporting. Receipt search can be carried out using preset queries or queries created by the user. Search results are then displayed as a list of receipts. The operator can choose to watch video footage with subtitles related to a particular receipt or to print out or save the receipt text and the snapshot corresponding to the selected receipt line. The system offers the following search presets:
by purchase list;
by purchase returns;
by receipt total;
by the number of products on the receipt;
by discount amount;
by product weight;
by multiple product registration;
by SKU;
all receipts within a set period of time;
by receipt total range;
by all items;
by purchase return;
by cashier number or name, for all cash registers;
by receipt number, by product name or code number;
by several product matches in a receipt;
by one product match in a receipt;
by product price;
by sale cancellation;
all receipts involving credit cards or discount cards;
receipt cancellation (with negative amount);
cancelled receipts list (displays receipt numbers);
products that were rung up twice;
ten most popular products;
sales for a period of time;
receipts with cancelled items;
rating of sold products by sales total;
rating of sold products by number;
list of all reserved items.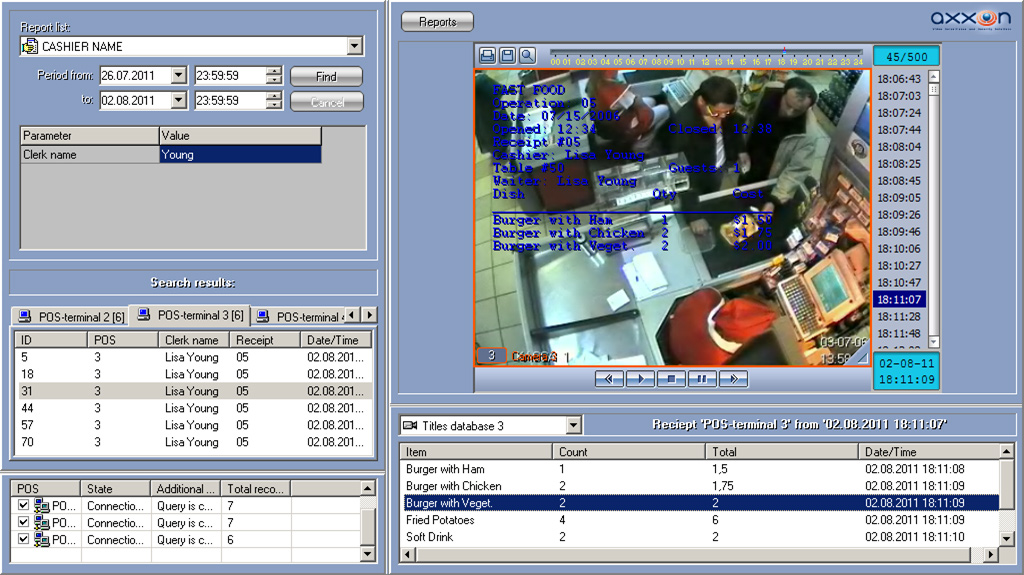 Line highlighting. To draw the operator's attention to particular events the system can be set up to highlight the title lines that contain predetermined text. This can be the product name or the word 'cancelled'. This function facilitates real time video surveillance.
Configuration of Automatic System Response. POS PSIM allows to create the system's response scenarios for specific events. A warning window popping up is an example of such response. This function enables inputting new potentially hazardous events in the system and determining the system's response to them over time. This helps responding promptly to events maximizing efficiency of real time video surveillance for security purposes.