Video surveillance
POS PSIM is a software solution that enables setting up a video surveillance system incorporating an unlimited number of video cameras, servers, surveillance operator and administrator workstations. The workstations can be mounted on the video servers and separate computers which can connect to the video servers either through a local network or remotely via Internet. Remote surveillance and administration capability makes it possible to establish an integrated monitoring center to process information from facilities scattered across vast areas, such as all the stores of a retail chain.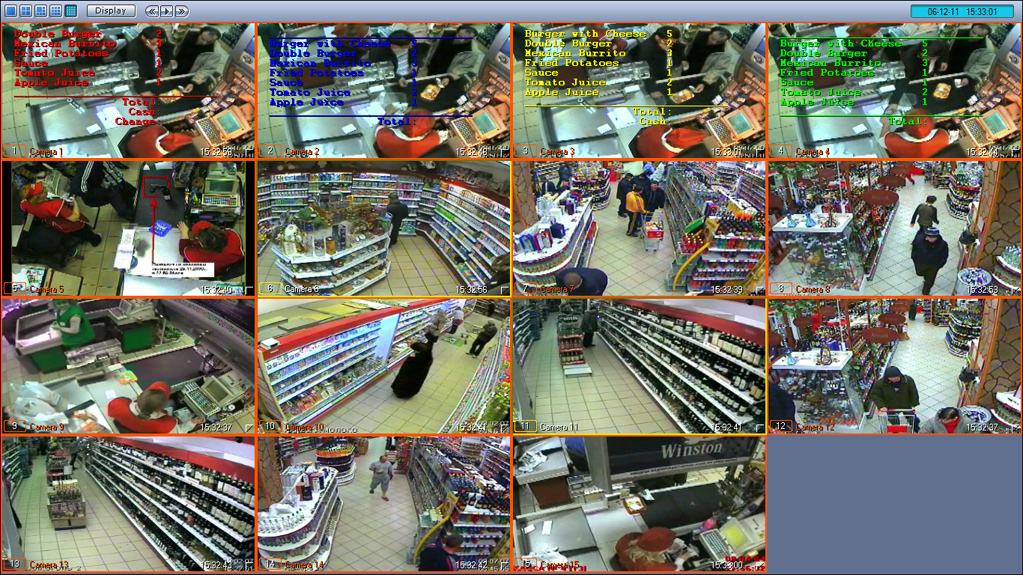 Support for analog and IP cameras
POS PSIM supports both analog cameras (via video input cards, including cards with hardware video compression) and IP cameras and servers. AxxonSoft software supports more than 10,000 models of IP devices including more than 3000 models of network devices integrated using proprietary protocol and 6900 ONVIF compliant devices, and this list is extended constantly. This allows to save funds allocated for video surveillance since expensive high resolution IP cameras can only be used where they are necessary, such as to supervise cashier operations.
Support of industry standards
POS PSIM supports established industry standards, i.e. the ONVIF universal protocol for video surveillance network devices interaction (work is underway to enable PSIA support) as well as the widespread video compression algorithms, such as MJPEG, MPEG-4, and H.264.
Video analytics
To automate video surveillance systems and facilitate the work of system operators, POS PSIM offers a vast video analytics capability. More than ten various video detections tools allow setting up the video surveillance system to automatically detect emergency situations while camera tampering and failure detection tools notify of any disruption in cameras' work. They identify any attempts to disable a camera and detect distorting factors that impede quality event registration.
The smart analysis option for video archives, Forensic Search, can quickly find video sequences that meet particular criteria for the behavior of captured objects (line crossing, motion in the zone, movement from one zone into another) thus bringing the archive processing to a new quality level.
In addition, POS PSIM supports embedded IP camera analytics and can use specialized video analytics tools.
Remote web browser-based surveillance
POS PSIM enables remote video surveillance and video archive playback as well as operating a PTZ camera via web browser from your personal computer, hand-held device, mobile phone, Apple iPhone or iPad.