Winsroad Inc.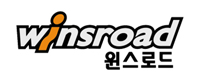 Address : A-1110, Uspace1, 660, Daewangpangyo-Ro, Bundang-Gu, Seongnam-Si, Gyeonggi-Do, Korea
Phone : +82-31-777-7900
Fax : +82-31-777-7999
Web :www.winsroad.com

Winsroad Inc. is a well-established Korean company, founded in 1992. We are a full service provider for IT sector and CCTV surveillance solution. We offer diverse products ranging from on-primise based infrastructure products to cloud solutions such as storages, servers, backups, etc. We have been offering optimized solutions for our customers based on our experiences and technology in many different fields, for instance, power plants, airports, and steel mills.
We will continue to do our utmost to lead the security and surveillance business in the future by taking account of customer needs first and developing our solutions.