MINING Ltd.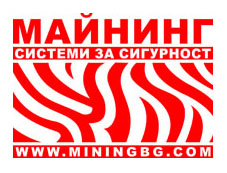 Address : Sofia, 18 Shipchenski Prohod Blvd., Galaxy Bussiness Center Floor 2, office 206
Phone : +359 2 872 24 86
Fax : +359 2 871 80 18
Web : www.miningbg.com

MINING Ltd. was found in 1992 and for more than 20 years offers:
Development of complex technological solutions in the area of security - complete SECURITY CONCEPTS, including designing, delivery, installation and service of the complete range of security systems.
MODERN EQUIPMENT FOR SECURITY with very high quality and optimal prices, long operating life and maximum return of the investition made.
REMOTE MONITORING, control and administration of systems for CCTV, security alarm and access, and work time, control
MINING Ltd. is a long-standing partner of world-known and established manufacturers like: IMPRO TECHNOLOGIES, VOSSLOH - KIEPE, GENERAL ELECTRIC/UTC FIRE&SECUITY, GUNNEBO ENTRANCE CONTROL, CROSSPOINT, SE-KURE CONTROLS, SOLVA, VIDEX, INDIGO VISION, KABA SAFLOC, O&O, AMANO, CIRCONTROL, CEIA, C.SCOPE, ULTRA ELECTRONICS, VIDEOTEC.
The company features their own installation teams, equiped with professional instruments, machines and vehicles to perform quality installation and service of the offered security systems.