New body temperature access control solution
05/27/2020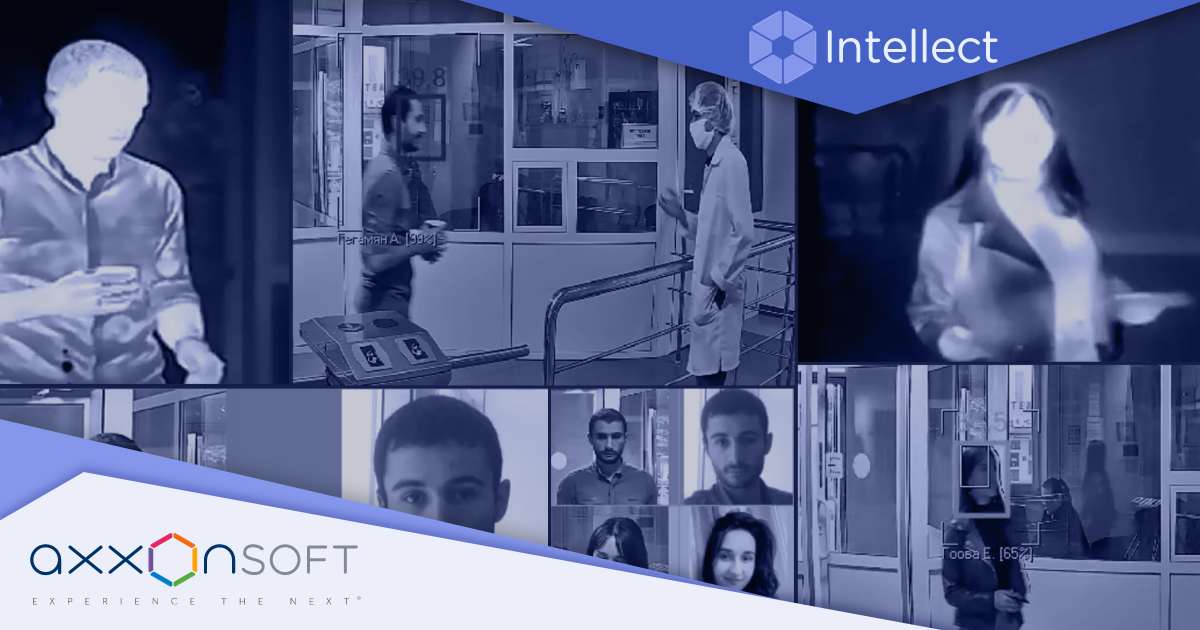 AxxonSoft presents a body temperature access control solution for hospitals, educational and production facilities, office buildings and similar restricted access sites. The system restricts access of individuals with elevated body temperature, a common symptom of viral infection–caused diseases.
The solution includes Intellect PSIM software–controlled thermographic cameras and an access control system.
Principle of operation
The suite identifies individuals passing through the entrance gate, measures their body temperature, and executes a pre-programmed response sequence based on measurement results, e.g., denies access for individuals with elevated body temperature. The system reports temperature and other relevant data and offers quick video search and viewing options.
Non-contact body temperature measurement
Thermographic IP cameras used to measure body temperature combine a thermal and a standard video feed. The thermal imager performs temperature measurements while the standard video channel is used for video monitoring. Moreover, video image is processed by a face detection algorithm which limits temperature measurements to human body surface only and reduces false alarms potentially caused by hot drinks and other heat sources.
The Intellect PSIM software suite supports a growing number of Grundig and Hikvision thermographic cameras. Their measurement accuracy of 0.5 °C is sufficient for screening purposes. With the use of a black body calibration device, the accuracy reaches 0.3 °C.
Temperature readings are input in the Intellect PSIM where they can be displayed as captions on live and recorded videos. You can apply color coding to show normal temperature values in green and elevated temperature values in red.
Executing a response sequence
The Intellect PSIM offers great flexibility in programming reactions to registered events. For example, if the system recognizes an individual with elevated body temperature, their pass can be automatically blocked, or access prevented with a turnstile. A facial recognition system is used to identify the individual, which operates on the video channel of a thermographic camera, comparing the subject's face with photos in the ACS database.
The Intellect PSIM can instantly notify authorized system users upon detection of individuals with elevated body temperature by email, or text messaging, as well as send out periodic reports on attempted access by such persons.
Similar response scenarios can be adjusted to establish restricted access for employees and visitors as per security clearance procedures in various institutions, including governmental organizations. The final decision to grant access can be made automatically or by operators based on the results of temperature measurements and additional data. Response scenarios can involve any hardware that supports Intellect: more than 40 access control systems, about 10,000 models of IP cameras, breathalyzers, introscopes, metal detectors, and many other devices.
Reporting and analytics
The Intellect PSIM performs facial recognition, records temperature readings, stores thermal and optical video streams, and logs operators' actions. All this data can be used for building reports which may include employees' photos and service records, event-related still frames and videos, etc. You can export a report to a file and print it out, as well as generate reports automatically on schedule and send them by email to a pre-defined list of recipients.