DetectorPack 3.5.0 Is Released
01/14/2021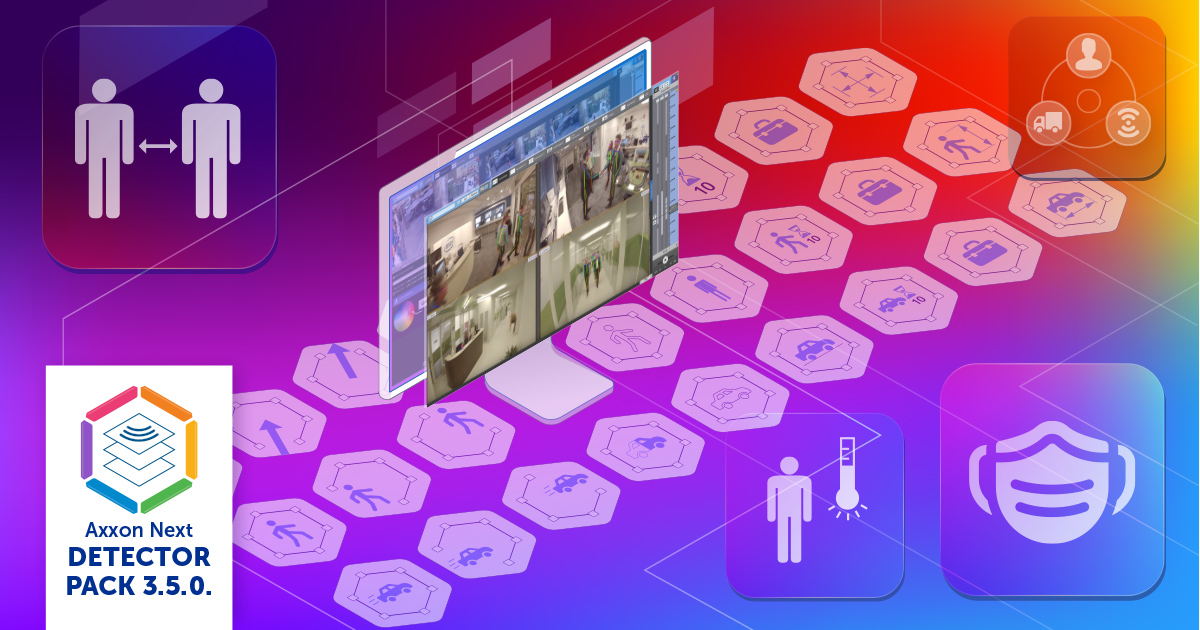 Axxon Next detection tools are now grouped by type (core, AI, facial, LPR) and compiled into a separate DetectorPack module, subject to independent continuous development and delivery. This makes it possible to download and update the required analytics between point releases of VMS.
New Detection Tools
A new AI-based Personal protective equipment (PPE) detection tool is added to the DetectorPack 3.5.0. It locates individuals wearing no personal protective equipment within areas where it's mandatory, or individuals wearing improperly applied PPE.
This DetectorPack version also includes Face detection and body temperature control using Mobotix M16 TR thermal cameras. When working with these cameras, the standard AxxonSoft face detection algorithm is applied. For each detected face, the following is performed:
Temperature measurement.
Displaying the measurement result next to the face bounding box.
Recording the temperature value into the system log, along with the face detection event. Thus, the event video footage is quickly searchable.
You can also set the system to launch an automatic scenario when temperature readings exceed the maximum permitted value: notify the operator, sound an audio alarm, send email or text notifications to the staff in charge, etc.
Another new item that is part of the Posture Detection tools is Close-standing people detection. By default, it is triggered when people stand too close to each other; however, you can set any minimal permissible distance. This may be used for social distancing violation detection.
New Features and Improvements
The face detection algorithm version is updated.
When standard motion detection is used, video feeds can now be decoded on NVIDIA GPUs using NVDEC chips.
Face detection and license plate recognition can now operate on GPUs.
The water level and posture detection algorithms are optimized.
Video decoding and analysis on GPUs significantly reduce the footprint on server CPU performance. Furthermore, several graphics cards can be installed on a single server. Due to this, more cameras can be connected to the server, reducing hardware expenses and support issues.
DetectorPack 3.5.0 is compatible with Axxon Next 4.4.2, with some limitations. Please contact our tech support team for details. Full support will be provided in Axxon Next 4.5.
Refer to the Release Notes for a complete list of the new functions and improvements.
Download the DetectorPack 3.5.0 installer from our Downloads page.