MULTICOM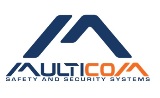 Address : N°07, Street Abdekarim Elkhattabi, Menzah 7- 2037- Ariana, Tunisia
Phone : +216 71 76 69 99
Web :www.multicom.tn
Multicom is a Tunisian company, specialized in electronic security systems, MultiCom distributes products and solutions for security professionals. Based on its experience in video surveillance, access control and anti-intrusion systems, MultiCom has a high level of technological know-how to offer solutions tailored to your specific needs.
MultiCom was created in 2005, the company has met the challenge and gained experience to become recognized by the most of Tunisian installers and integrators.
A strong ambition coupled with a spirit of innovation have allowed a steady expansion that now crosses the borders.