Aster Informatique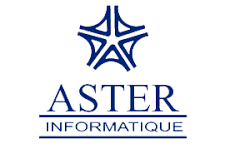 Address : 10 Av Abdelaziz Thaalbi El Menzah 9 - 2092 – Tunis
Phone : + 216 71 88 10 02
Web :www.aster-informatique.com/
Founded in 1983, ASTER INFORMATIQUE is today one of the top 5 companies in the computer and CCTV sector in Tunisia with nearly 200 operators. In almost 35 years of existence, ASTER INFORMATIQUE has installed more than 370 000 workstations and 3000 servers.
ASTER INFORMATIQUE is a subsidiary of the first private group in Tunisia, which is POULINA GROUP HOLDING (http://www.poulinagroupholding.com ), which holds more than 108 companies.
ASTER INFORMATIQUE has put resources, means to build a modern company that would do honor to our country, which would live up to the management quality, and efficiency with businesses in the most developed countries.