Spiraltech Pte Ltd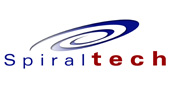 Address : Singapore 318993, 998 Toa Payoh North #06-08 S318993
Phone : +65 62533385
Fax : +65 68758053
Web :www.spiraltech.com.sg

SPIRALTECH PTE LTD was established in 2001 and specializes in Mega-pixels network cameras solution, 360 degree immersive video surveillance solution, complete Enterprise Video & Alarm management solution, Video over IP solution, Network Video Recording(NVR) & Codec solution and Wireless solution.
SPIRALTECH employs highly trained and committed engineers whose main responsibility is to assist in the system design, technical support and training to all its customer.
Dealing with mainly dealers, installers, and system integrators and coupled with a wide distribution network throughout their territories, SPIRALTECH is committed to provide the best solution and support to all its customer. Knowing after sales service support is critical, SPIRALTECH ensured that all appointed dealers, installers and system integrators are fully trained and must be able to provide the basic first line of support to their customers.