ACFA Intellect 6.8 Released
08/05/2020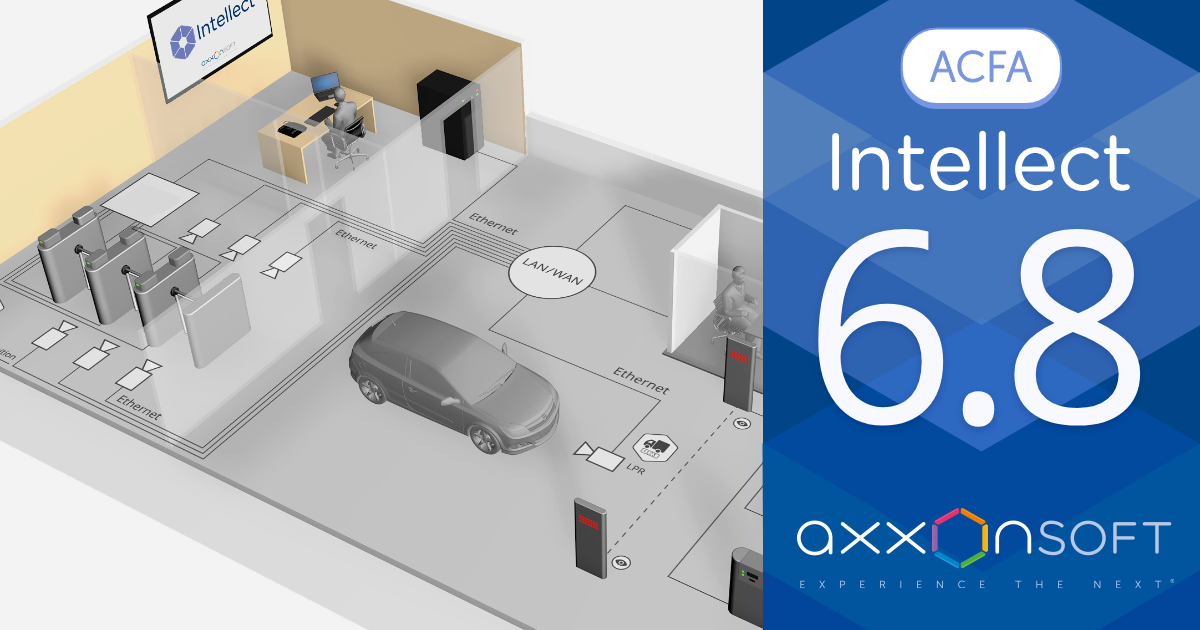 AxxonSoft has released a new version of the ACFA Intellect package that integrates the Intellect PSIM with access control, fire/security alarms, and perimeter security systems. ACFA Intellect 6.8 supports new systems, and also includes new functions and improved existing integrations.
New Integrations
For our enterprise clients, ACFA Intellect 6.8 now seamlessly works with new firmware for Noder — an IP ACS controller. EWE4 and EE12 standalone-enabled controllers boast a memory of over 2 mln events and support more than 1 mln cards.
The BioSmart UniPass integration module now works with BioSmart PV-WTC Palm Vein Terminal. In Access Control and T&A, it allows running high-security and high-accuracy single or multi-factor authentication (Card + Biometric, PIN + Biometric), using encrypted templates of vein patterns inside a person's palm.
The BioSmart UniPass controller, part of BioSmart ACS, is also supported. This controller works with BioSmart PV-WM, WR-10 and third-party Wiegand-enabled palm vein/RFID readers to identify users by unique biometric structural features of human palm subcutaneous veins and RFID cards. Now ACFA Intellect allows enrolling palm vein templates directly from the controller bypassing a reader. Locks, turnstiles, sensors and other actuators connect to the controller via Wiegand input/output interfaces.
Hikvision K1T761, K1T200 and K1T606 access control terminals identify users via fingerprint recognition and face detection. Hikvision K1F100-D8E desktop card reader is also integrated.
New Features and Improvements
Access Manager now offers even more convenience in terms of handling users and access cards. User profiles feature buttons for all key commands, number of user cards can be limited by maximum values, and users of different types can be added into one department. User duplicates are now grouped by their IP, vehicle number plate, and PIN. Client computers now work with readers. A new search, by Temporary Access Level expiration date, has been added.
In the BACnet Wrapper module, all Intellect events can be forwarded to external systems via BACnet (in Client mode).
Apollo SDK v.2, Perco S-20 v.2, Siemens Vanderbilt, Alcoframe, Salto, and ZK Teco integration modules have also been improved.
ACFA Intellect 6.8 software is compatible with Intellect PSIM 4.11.1.
Please refer to the Release Notes for a complete list of new functions, newly integrated devices, and improvements.
Download the ACFA Intellect 6.8 installer from our Downloads page.