About VIVOTEK
VIVOTEK Inc. was founded in February 2000. The Company markets VIVOTEK solutions worldwide and has become a leading brand in global security surveillance. In recent years, VIVOTEK has developed comprehensive IP surveillance solutions that encompass a broad range of network cameras, PoE switches, network video recorders, and video management software. In response to the possibilities offered by the rising trend of IoT, VIVOTEK aspires to become the Eye in IOT by drawing on its extensive technological capabilities in image and audio. The Company also plans to continue improving its software/hardware R&D capabilities and expanding its already extensive strategic alliances with leading international software and hardware partners. This synergy of independent and cooperative development will maximize potential, achieve high-level system application and technology integration, and more deeply satisfy user demands across vertical markets.
AxxonSoft and VIVOTEK Partnership
AxxonSoft provides excellent integrations for VIVOTEK products, offering users numerous benefits and versatilities. Axxon One and Axxon PSIM support VIVOTEK network IP cameras, especially on the features of Smart Stream, Panoramic PTZ (PPTZ), Standard VCAs*, Smart VCAs* and counting data, as well as video servers and NVRs with dedicated drivers. The joint solutions of AxxonSoft and VIVOTEK bring greater business opportunities and value for both companies.
Benefits of Integrated AxxonSoft and VIVOTEK Solutions
Panoramic PTZ and Tag&Track
AxxonSoft has integrated VIVOTEK's Panoramic PTZ (PPTZ) feature, allowing users to monitor an area overview from VIVOTEK fisheye cameras while simultaneously providing the capability for a detailed regional view from a VIVOTEK speed dome. Moreover, Axxon One and Axxon PSIM users can take advantage of the Tag&Track Pro feature, which enables the labeling and tracking of moving objects, whether selected manually or detected automatically, using VIVOTEK fixed cameras for overviews and the speed dome cameras for zoomed, detailed views of the tracked objects.
Smart Stream
Smart Stream allows users to reduce bandwidth consumption and storage requirements of video from VIVOTEK cameras by using full resolution only for predefined areas in the field of view — either regions of interest or automatically detected moving objects — while utilizing a lower baseline resolution for background areas of no interest for the surveillance application. Integration of Smart Stream with Axxon One and Axxon PSIM allows users of the VMS to gain the benefits of this advanced feature.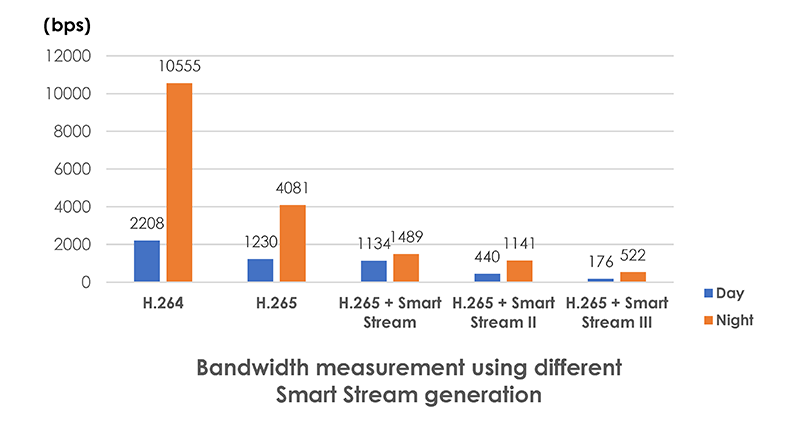 Video Content Analysis
VIVOTEK Smart VCA and people counting tools are next-generation video analytics running on VIVOTEK cameras for security applications. The on-board Smart VCA suite includes Intrusion Detection, Loitering Detection, Line Crossing Detection, Unattended Object Detection, Missing Object Detection, Face Detection and Crowd Detection. The 3D people counting cameras provide high accuracy and multiple formats for counting analysis.
As humans are the objects of interest in most video surveillance applications, the people detection feature enables users to quickly configure their installation. With people detection, only human activities will serve as event triggers, while swaying vegetation, vehicles passing by, or animal activities in the scene will be ignored. This helps reduce false alarms, as well as the time and effort needed for camera configuration.
AxxonSoft products integrate VIVOTEK's Video Content Analysis Technology (Standard VCA*, Smart VCA* and Counting Camera), which helps reduce system loading on analytics and provides efficient event and alarm management for additional search functions.
NVR Integration
Axxon One and Axxon PSIM are intuitive professional video/central management software products that support VIVOTEK IP surveillance products, as well as the VIVOTEK Network Video Recorder series, for hundreds of cameras and stations in a hierarchical system structure for monitoring, recording, playback and event trigger management with effortless control. Through the integration of the VIVOTEK NVR series, AxxonSoft software works as a Central Monitoring System that ensures ease of use when working with VIVOTEK NVRs.
* Integration in progress