About Amazon Web Services
In 2006, Amazon Web Services (AWS) began offering IT infrastructure services to businesses in the form of web services — now commonly known as cloud computing. Today, AWS is the world's most comprehensive and broadly adopted cloud platform, offering over 200 fully featured services from data centers globally. Millions of customers — including the fastest-growing startups, largest enterprises, and leading government agencies — are using AWS to lower costs, become more agile, and innovate faster.
AWS Offering for AxxonSoft Partners
On top of Amazon Web Services (AWS), AxxonSoft offers its partners a cost-effective, efficient, and resilient platform for the deployment of cloud video surveillance solutions.
Amazon Elastic Compute Cloud (EC2) provides highly available, easily scalable computing infrastructure to host virtual Axxon One VMS servers and the AxxonNet web application. Amazon Elastic Kubernetes Service (Amazon EKS) can be applied to deploy and manage containerized AxxonSoft applications at scale. Native support for Amazon Simple Storage Service (Amazon S3) ensures cost-effective storing of Axxon One data and videos in the Amazon cloud.
When a partner employs VMS as part of an IoT solution, Amazon Kinesis Video Streams (KVS) service makes it easy to securely store event videos streamed from Axxon One cloud-based VMS servers and then quickly access them in the partner's IoT platform.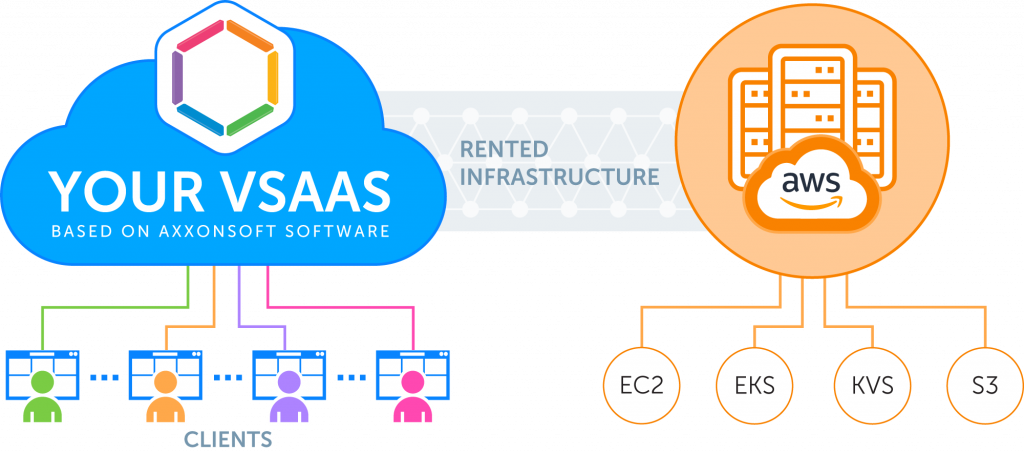 Benefits of Amazon Web Services
Ease of Use
AWS is designed to enable quick and secure hosting of applications. You can use the AWS Management Console or well-documented web services APIs to access AWS's application hosting platform.
Flexibility
AWS enables you to select the operating system, web application platform, database, and other services you need. With AWS, you receive a virtual environment that lets you load the software and services your application requires.
Scalability and Instant Elasticity
With cloud computing, you don't have to over-provision resources upfront to handle peak levels of computing load in the future. Using services from AWS, like Auto Scaling and Elastic Load Balancing, your application can scale up or down based on demand. Backed by Amazon's massive infrastructure, you have access to compute and storage resources when you need them.
Cost Effectiveness
The cloud allows you to trade capital expenses (such as data centers and physical servers) for variable expenses and only pay for IT as you consume it. Plus, you can choose a plan that works best for you. With the pay-as-you-go model, you pay only for the compute power, storage, and other resources you use, with no long-term contracts or upfront commitments. Reserved virtual machine instances provide cost savings through purchasing committed use contracts with term pricing for a fixed period.
Reliability
With AWS, you take advantage of a scalable, reliable, and secure global computing infrastructure, the virtual backbone of Amazon.com's multi-billion-dollar online business that has been honed for decades.
Security
AWS utilizes an end-to-end approach to secure and harden the infrastructure, including physical, operational, and software measures. Using AWS, you will gain the control and confidence you need to securely run your business with the most flexible and secure cloud computing environment available today. As an AWS customer, you will benefit from AWS being the only commercial cloud that has had its service offerings and associated supply chain vetted and accepted as secure enough for top-secret workloads.